Welcome to the Cindy V Video website!
My name is Cindy Van Vreede and I am Cindy V Video. I'd like to take this opportunity to tell you a little bit about myself.
I was born and raised in the Fox Valley area and graduated from Freedom High School. I went to college at the University of Wisconsin-Stevens Point. My major was Communications with an emphasis in television production. I double minored in Political Science and Women's Studies.
Upon graduation from college I worked briefly (very briefly) at a radio station in Neenah, WAHC. The radio station was 100% computer operated. Not only was all the music on big reel-to-reel tapes, but so were the disc jockeys!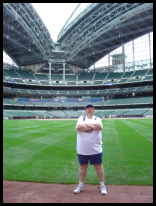 Soon I found myself in Milwaukee with a job as Production Assistant at Milwaukee Public Television. Over the years I worked on several different programs from arts to political affairs; cooking shows to fashion shows; and ethnic shows such as Colorlines, Black Nouveau, and Adelante. I also worked myself up from Production Assistant to Associate Producer to full Producer. I was lead Producer on the Emmy Award winning "Smith & Company" for its entire seven year run. In fact, I'm still at Milwaukee Public Television working on fundraising activities with the MPTV Friends.
During the mid to late 1990s I did freelance work for the major networks. For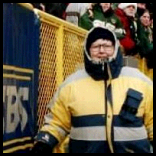 Fox Sports and CBS Sports I did field audio for Green Bay Packer football games. Do you see those folks running down the sideline with those big green audio dishes? That was me! My one claim to fame is that I was hit by a Brett Favre pass once. (Actually, he overthrew Antonio Freeman and the ball hit my dish.) For CBS Sports I also operated an RF receiver for NASCAR races. I worked the Major League Baseball All-Star game when it was here for the Fox Sports Network. And I ran the character generator (the machine that puts words on the TV screen) for Marquette University basketball games on ESPN.
When I was freelancing the sports gigs I was introduced to the world of wedding event taping through a company called Action Video. I enjoyed the work so much that I decided to open my own shop and started Cindy V Video in late 2002. Since then I have taped numerous weddings, created many family history videos, and worked with several businesses on the video for their websites.
When you hire Cindy V Video, you get me. I don't use subcontractors or students. I personally do your work and you deal directly with me. So check out my website. If you like what you see, give me a call. I'd love to chat with you.